To get this extension, go to the Store Maintenance Lite extension page.
Store Maintenance Lite
Enable Store Maintenance

Log into the Magento Admin panel and go to Store ⟶ Configuration ⟶ Magediary ⟶ Store Maintenance Lite ⟶ General. Here select Yes to enable store maintenance and save the configuration.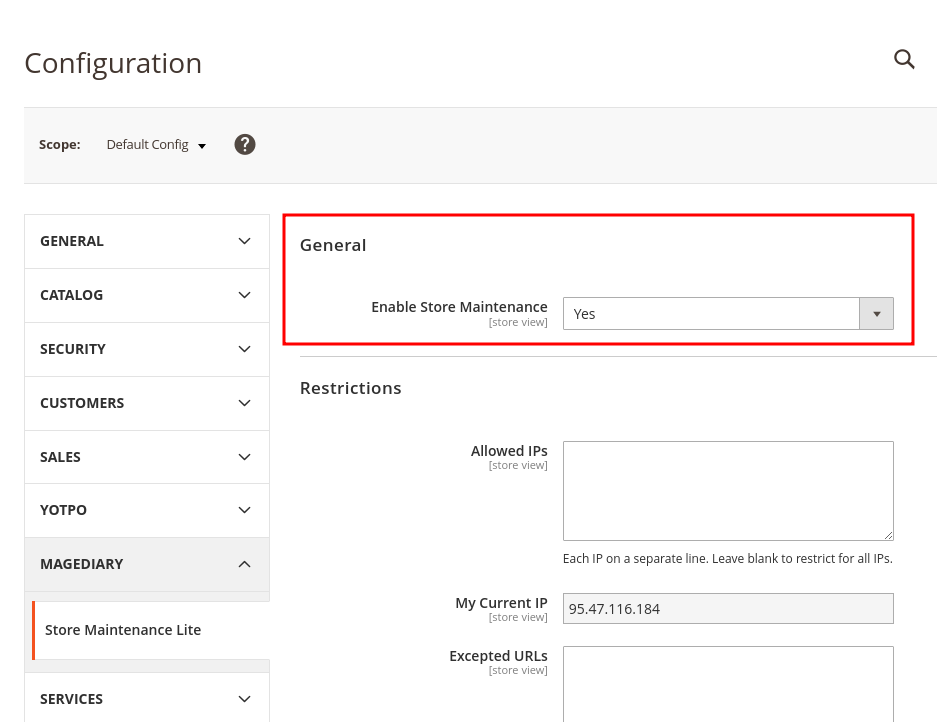 Content

Content section allows managing the content using WYSIWYG editor and css of the maintenance page which will be displayed on the frontend.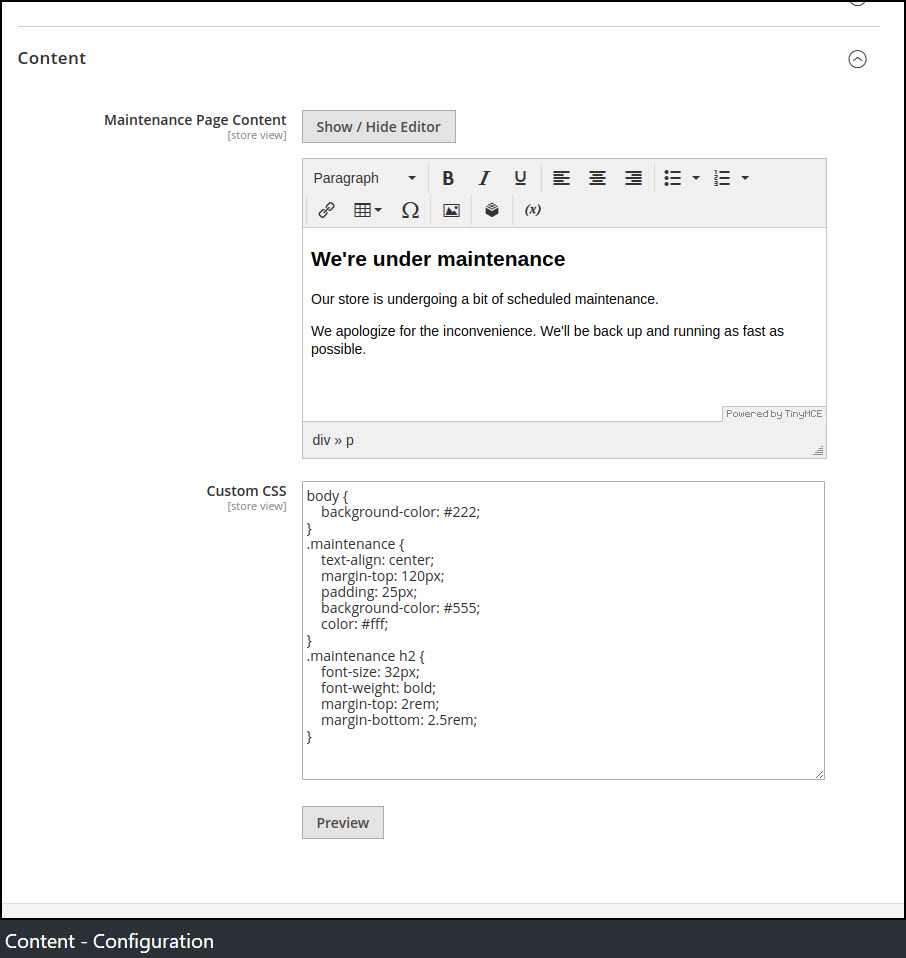 Maintenance Page Content

Maintenance Page Content is a WYSIWYG editor field that allows editing the content of the maintenance page according to your requirement.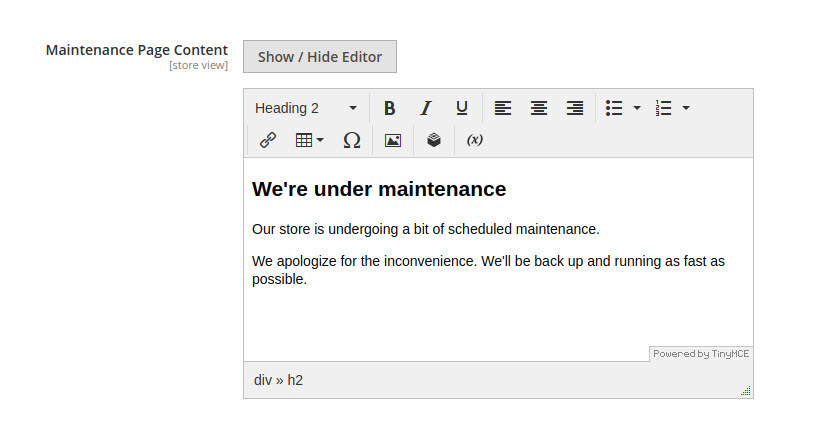 Custom CSS

Custom CSS allows editing the CSS of a maintenance page. CSS mentioned in this field will be added in the maintenance page.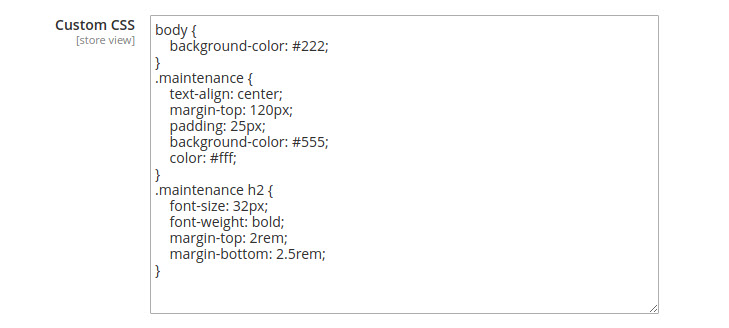 Restrictions

Restrictions configuration whitelist IPs and URLs that bypass the maintenance page.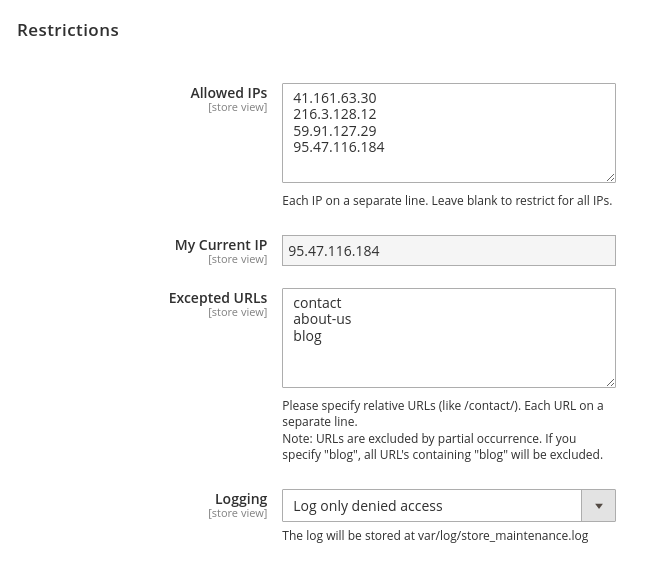 Allowed IPs

Allowed IPs field used to whitelist IPs. The website will be accessed for IP addresses added in this field.

My Current IP field makes you easy to get your current IP to whitelist by adding that in the Allowed IPs field.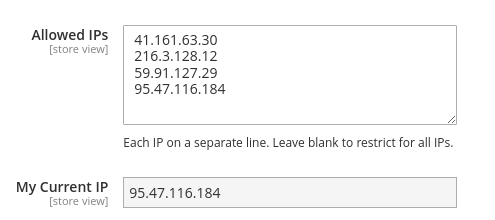 Add each IP address on a separate line.
Excepted URLs

Excepted URLs field is used to whitelist specific matching URLs. The website will be accessed for matching URL added in this field.

Here, the website will be available for URLs like
yourwebsite.com/contact
yourwebsite.com/blog
yourwebsite.com/blog/hello-world
yourwebsite.com/blog-hello-world
Logging

When the customer access the site during the maintenance period it adds entries in the var/log/store_maintenance.log file.

There are three options for logging
No Logging: disable the log
Log only denied access: only log when the user accesses the maintenance page. It will not add a log of excluded IPs or URLs
Log all access: log all access including excluded IPs or URLs
Preview Maintenance page

Preview button allows you to check how the maintenance page looks like. So you can check the maintenance page before enabling it.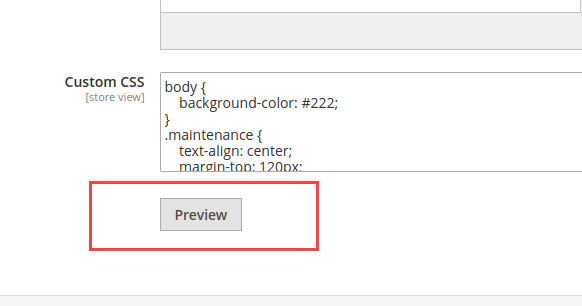 YouTube demo

How it works - Demo